Enjoy your tour with Flamingo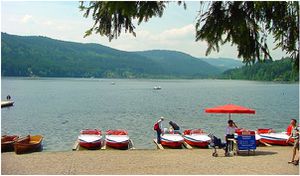 Flamingo is a tour operator based in Ahmedabad which was founded in the year 1996 with an initial strength of 3 people. Later on, they progressed to reach a strength of 180+ employees. Recently they celebrated their 20th anniversary. They have made a name for themselves in Gujarat and other different parts of India. They have become household names in the Gujarati and Jain communities for their unique service which includes serving tasty and authentic food on such tours. For this reason, they boast of a 100% return customers. Flamingo works towards the benefit of the customers. For this reason they have applause from their community. Till date Flamingo has toured a massive 100,000 customers worldwide.
There are a variety of packages offered by Flamingo. If you are interested in visiting evergreen Europe, you can choose the Europe tour package. The Europe tour package has many other variations to cater to different budgets and requirements. You also have the choice of choosing vegetarian meals for your trip.
Flamingo transworld was built, keeping certain agendas and ethics in mind. These include respect for work, equality, belief in the truth, distribution of wealth & prosperity for all. By following these principles, Flamingo earns the respect of their customers all across the world.
Flamingo transworld has garnered a lot of success and they plan to become the biggest tour operator in the world. With the current rate of success, they are on the path of attaining that feat. Flamingo has been applauded for its dedicated work. Recently they were felicitated by the Emirates in Dubai for their contribution to the Dubai tourism.
In 2009, Flamingo started a trust to fund the needy children for their education. They have 10 students currently taking advantage of this benefit. Flamingo partly sponsors their education.
Social Profile :
https://www.facebook.com/FlamingoTransworld
https://twitter.com/Flamingo_Team
https://plus.google.com/+FlamingoTransworld/posts
https://www.youtube.com/user/FlamingoTravels
To be informed of the latest articles, subscribe: